Welcome to HealthReach, your community healthcare provider. We're glad you're here.
All are welcome, no matter what you can pay. We offer complete healthcare services at a reasonable cost — and we help make sure it's affordable for you.
At HealthReach, we provide an integrated care team to meet your health and wellness needs.
Affording Care
We can help.
We believe everyone deserves the healthcare they need, no matter what they can pay. There are several ways we can help you access affordable healthcare.

Reasonable Cost
Get complete care at a reasonable cost, and get help understanding your coverage.

Affordable Care Program
Reduce what you pay based on your income and family size.

Get Help Applying
Apply to programs that can help make your healthcare more affordable.
HealthReach is here for you. We offer complete medical and healthcare services for families in rural Central and Western Maine.
The HealthReach Connection
Your wellbeing is our focus.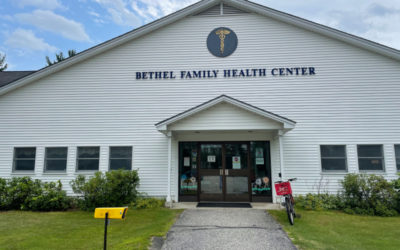 Bethel – Would you like to experience the benefits of healthcare alongside a four-legged friend? Have you ever wanted to incorporate animals into your mental health and therapy journey? Now is your chance! HealthReach is excited to announce that Denise Thorn, LCSW,...
"Outstanding care! I wouldn't be alive today if it was not for this facility."
– Belgrade Patient
"I love the fact that I can go into my medical clinic and feel comfortable and feel as if they are trying to help me. I don't find that very easily other places."
– Belgrade Patient
"The staff are extremely friendly and patient with my children. Especially with my son who has been wary about the dentist
—

we had our first successful trip!"

– Bingham Dental Center Patient
"I'm ecstatic that I've transferred my care to Strong Area Health Center. All the staff are excellent!"
– Strong Area Health Center Patient
"I have never been disappointed in the care I have received. I live my life at ease knowing you are there for me. Thanks to all of you. You are a great team."
– Sheepscot Valley Health Center Patient
"You guys are perfect
—

so sweet, sense of humor, prompt, and listen. Don't change a thing."

– Western Maine Family Health Center Patient